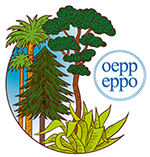 Scientific Officer (P2) with special tasks related to Forestry pests and relations with Russian-speaking country representatives and experts
Нажмите здесь, чтобы прочитать русскую версию
Ref: P2RUOFF
Grade: P2/1
Location: Paris, France
Estimated net salary: 4300 Eur / month
Type of contract: Fixed Term
Duration of contract: 3 years
Deadline: 2021-09-30 23:59 (Paris time)

EPPO is recruiting a full time Scientific Officer.
The appointment will be for a fixed term of three years with the possibility of extension and a permanent post after five years of satisfactory service.
The post will be based in Paris. The starting salary will be P2/1.
Introduction to EPPO
The European and Mediterranean Plant Protection Organization (EPPO) is an intergovernmental organization responsible for international cooperation in plant protection in the European and Mediterranean region.
In the sense of the article IX of the FAO International Plant Protection Convention (IPPC), it is the Regional Plant Protection Organization for Europe.
Founded in 1951 with 15 member governments, it now has 52 member governments including nearly every country of Western and Eastern Europe and the Mediterranean region.
The EPPO Secretariat is based in Paris and consists of 18 persons headed by a Director-General and Assistant Director.
EPPO is financed directly by annual contributions from its member governments. Its official languages are English, French and for certain purposes Russian.
EPPO is also hosting two networks: Euphresco (research coordination) and the EU Minor Uses Coordination Facility (MUCF).
Tasks of Scientific Officer
Support the EPPO work on Phytosanitary risks and measures.

Coordinate the work of the Panel on Quarantine Pest for Forestry, organize the meetings and support the chair of the Panel with the preparation of documents.
Contribute to the Panel on Phytosanitary Measures in particular for forestry matters.
Contribute to the Working Party on Phytosanitary Regulations in particular for forestry matters.
Contribute to PRA activities: participate in PRA team activities, organize EWGs for PRA (including the preparation and review of PRAs), review of PRAs prepared by colleagues of the PRA team.

Organize Workshops in the area of Quarantine Pests for Forestry.
Participate in other EPPO Panels, Workshops and Conferences where applicable.
Communication with Russian-speaking representatives and experts in the EPPO region

Coordinate the EPPO Russian translation programme.
Maintain the network of Russian-speaking country representatives and experts from the EPPO region.
Support the Director-General in contacts with Russian-speaking country representatives and experts.

Contribute to EPPO's work on Information Services.

Review publications for the EPPO Bulletin.
Contribute to the EPPO Reporting Service.
Review datasheets prepared by experts.

Assist with other aspects of EPPO's work as required and depending on skills and experience.
Skills and qualifications:
Graduate in Agronomy or related discipline
Knowledge of and experience in working with forest pests.
Knowledge of pest risk analysis and phytosanitary regulations
High level of attention to detail.
Ability to work independently and according to EPPO procedures.
Organizational skills, in particular the ability to work well under pressure, prioritize tasks and meet deadlines.
Ability to interact with colleagues effectively and pleasantly.
Excellent interpersonal and facilitation skills, for example ability to work with, and collect information from experts from across the EPPO region, with varying levels of English or Russian.
Language skills: Excellent in speaking and writing English and Russian (which will be tested as part of the selection procedure).
Experience of working in an international organization is desirable.
Citizen of an EPPO member country.
The Scientific Officer will be based in Paris and work under the supervision of the Director-General of EPPO.
Salary and benefits
Terms and conditions are based on those of UNESCO adapted to the needs of EPPO.
The salary paid will be based on the UNESCO P2 salary scale.
Net of tax and deductions this will be approximately 52 000 € per annum.
EPPO participates in the UN Joint Staff Pension Fund, the French Social Security system and a supplementary health insurance scheme.
For staff recruited outside France removal expenses and a settling in grant are payable.
Application procedure
If you are interested, please follow the link "Submit my application" below and provide a covering letter, a Curriculum Vitae and referee names.
Applications should be submitted by 2021-09-31.
All documents should be written in English and provided as separate files. Shortlisted candidates will be invited to an interview to EPPO's headquarters in Paris which will include a written and oral exercises.
Interviews will be organized in the end of September or beginning of October 2021 and the selected candidate would be asked to start as soon as possible.
Contact for further information
If you would like an informal discussion on the nature of the post before considering whether to apply, please contact job-p2ruoff@eppo.int to arrange a conversation with Nico Horn, the Director-General.
Sorry, the deadline has passed, we are no longer accepting applications
---